seminarsen
current available seminars
I have been working on my Seminars in the background for many years. Gathering notes, testing my theories and discussing them with my peers. It has been a huge part of my own learning process and has been enriching my artistic development with a scientific aspect, which i find endlessly rewarding.
I have had some very encouraging feedback from other artists. Some of which are big influences and inspirations to me and whose attendance and feedback honored me profoundly.

There will be more topics in the Future. Here are the ones i am currently teaching:
upcoming events
(updated march 5th 2018):
What Is It? - Tattoo Expo Bologna 2018 IT
Sunday - April 8th 12:00PM (2h30m duration + Question & Answer session afterwards)
Language: English (Italian translator present)
Ticket Price 150€
Please contact Organizers for Tickets and Details!
Priorities
Design Theory for Visual Artists of all levels
( updated version of "Don't Fight The Brain" )
Seeing something beautiful is a feeling before it is a thought. The visual brain determines what we look at before we can think about it.
which is exploitable by visual artists.

I have been tattooing for 12 years and consider myself deeply rooted and specialized in abstract designs. In it's nature, abstract art does not depict any specific, easily understood subject matter and for that reason has to use all kinds of tricks to get just as much attention as imagery of easily recognizable subjects like flowers, faces, letters, etc. In solving this problem, I have found a narrative to explain a variety of visual tricks that help me to capture attention and reward it every step of the way until a strong impression is made.

In this seminar I will explain the ways in which our brains tell us where to look and what to remember before our personal taste kicks in. These triggers, once understood will not only guide you to successful, effortless and confident looking compositions, but will also render the world around you with greater depth and clarity. It's a great way to find a unique and personal handwriting within the graphic language of visual art. It's a tool to find your personal style.

This Seminar is geared specifically to the tattooing medium but is applicable across the board of visual art and design.
It is not a seminar about biomech or abstract art or requires a deep understanding in these subjects.

Upcoming Dates: (nothing planed right now)
What Is It?
A Seminar on Biomechanic Design for Tattoo Artists of all levels
by A. Dominic and M. Lenhard
The question is as old as the subject matter of abstract art itself. Answering it poses a perpetually complicated problem even to the most experienced in this field. Complicated things are hard to sell and thus not very popular in our community. Armed with a metaphoric explanation and a simple structural understanding of this art form one can approach it with the confidence necessary to master it.

In the last 10+ years Markus and Adrian have spent many hours discussing the problem of explaining what we do to the laymen. By doing this for so long they created a visual and language based narrative to describe something most find hard to put into words.
Making the subject matter less elusive and abstract, this seminar will help students to further their own understanding of the topic and make it easier to find their own language within the world of the abstract aesthetics. This will lead them to, not only find it easier to stimulate interest for this style in their own clientele but surprise themselves with a previously untapped source of creativity.

The seminar will be utilizing a descriptive library of images of photography, sketches, drawings and tattoos which Adrian and Markus have been collecting and sharing for years in order to communicate new and old ideas and to stimulate growth and inspiration for each other.
This Seminar is taught by Adrian and Markus together or solo. It is geared towards Tattoo Artists but will be helpful to anybody who wants to get started with abstract art but has no idea where to start.

Upcoming Dates: Tattoo Expo Bologna 2018 IT

 
Available as Webinar through Tattoo Now. The Live Seminars are continiously updated and more personal, but if you can't attend any of my seminars live, this is a good way to not miss out.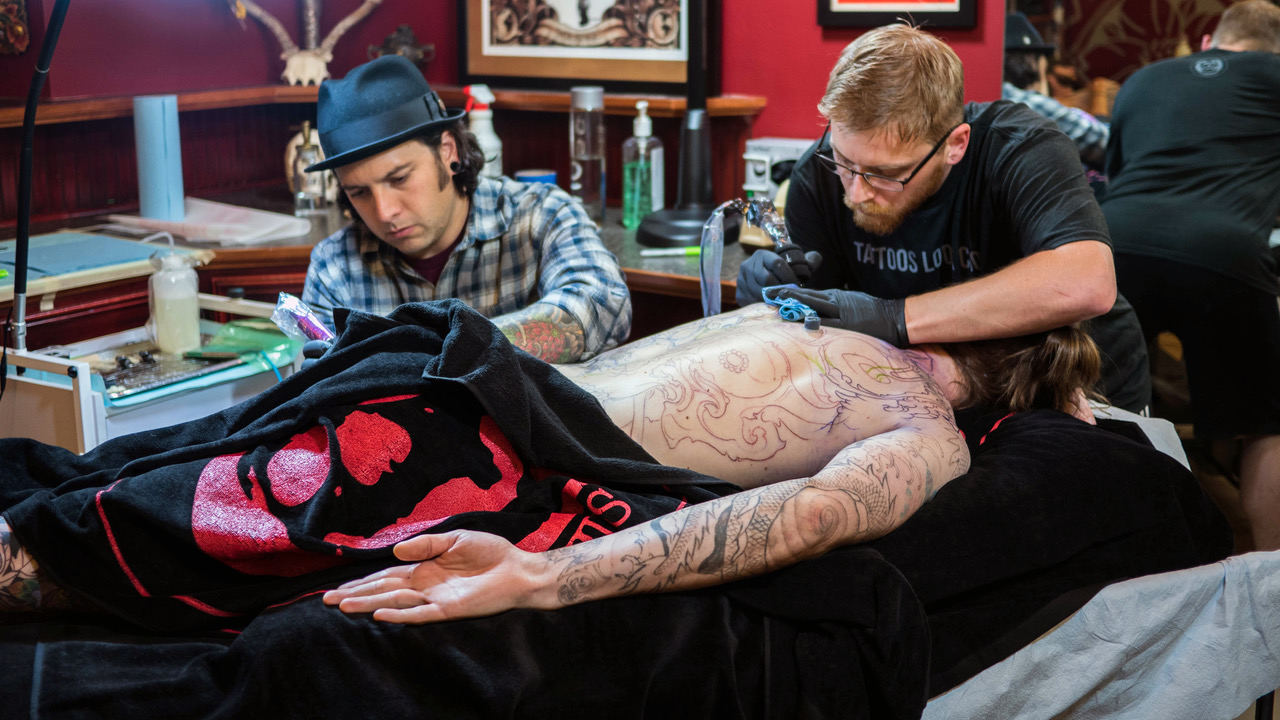 In September of 2016 Markus Lenhard and Jeff both presented their seminars on tattooing with a accumulative of almost 30 years of tattoo experience and a decade of teaching all captured on camera. This one day event was held in Grants Pass, Oregon after two days of collaborating on a full back tattoo on an artist from Wales, UK. Which was also captured and edited into a 9 minute professional mini documentary all by Heartisan Films. All three videos adding up to over four hours of content is offered on a leather bound, embossed chrome flash drive to be viewed and re-viewed at your convenience. Downloadable onto your computer or viewable on your television. To attend Markus' or Jeff's seminars in person often cost $175-$250 each depending on the venue and the recorded one day event was $350 per attendee. Applying the knowledge, experience, and perspective shared in this production is sure to change your tattoo career and pay for itself perpetually and in multiple ways.